Roasted Red Pepper, Artichoke and Olive Pasta Salad. Pasta salad is also quick, cheap, and perfect for picnics! Just the idea of picnics sends me off to Swoonsville. And if you're anything like me, cheap and I blended some of the roasted peppers, olives, and artichokes with a touch of olive oil, dijon, red onion, garlic, some parsley, and white wine.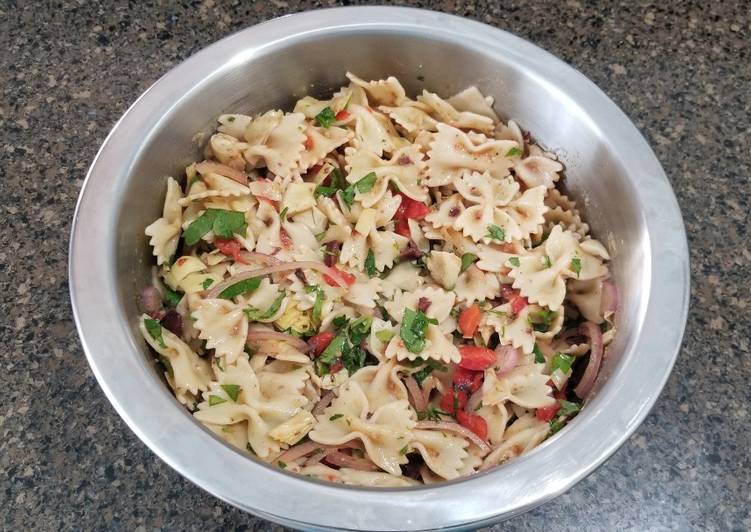 Mix the peppers and artichokes together in a bowl and season with salt and pepper. Add a little oil from the jar, if needed, along with the basil leaves and balsamic vinegar. Roasted Red Pepper in olive oil – Red pepper Salad – Antipasto Garnish – Online Cooking Classes During that class you will learn how to make a new salad. You can cook Roasted Red Pepper, Artichoke and Olive Pasta Salad using 20 ingredients and 6 steps. Here is how you cook it.
Ingredients of Roasted Red Pepper, Artichoke and Olive Pasta Salad
It's 1 lb of farfalle (bowtie) pasta, cooked al dente.
You need 1/2 cup of kalamata olives *divided*.
You need 1 cup of roasted red peppers (about 3 large peppers) *divided*.
Prepare 1 of x 12 oz can marinated artichoke hearts, roughly choppped *divided*.
It's 1/2 cup of fresh italian parsley *divided*.
Prepare 1/2 cup of red onion, sliced very thin *divided*.
You need 2 tablespoons of capers.
It's of Note: anything marked *divided* will be used for both the salad and the dressing.
Prepare of For the dressing:.
You need 1/2 cup of olive oil.
You need 1/2 cup of white wine vinegar.
Prepare 1 tablespoon of dijon mustard.
It's 2 tablespoons of parsley.
Prepare 2 tablespoons of red onion.
You need 2 cloves of garlic.
It's 1/4 cup of roasted red pepper.
It's 10 of of the kalamata olives.
Prepare 1/4 cup of artichoke hearts.
It's 1 teaspoon of salt.
You need 1/2 teaspoon of crushed black pepper.
Mediterranean flavors of roasted red peppers, artichoke hearts, capers and feta cheese mix with a hint of cream to make a light sauce in this easy pasta. It's been a year since I wrote up the recipe so I don't exactly recall the original recipe I found on their site. But I do recall it was pasta and had shrimp. A quick and easy penne pasta salad with broccoli, red pepper and marinated artichoke hearts.
Roasted Red Pepper, Artichoke and Olive Pasta Salad instructions
Bring a large, salted pot of water to boil. Once the water is boiling rapidly, add the pasta and cook for 8-10 minutes. Start checking at 8 minutes, then keep a close eye after that as you don't want soggy pasta! Once cooked, drain and rinse quickly with cold water and allow to cool..
While the pasta is cooking, chop the olives, peppers, parsley, onion and artichokes..
Place all the dressing ingredients in a blender and pulse until smooth..
Place cooled pasta in a bowl and pour over the dressing (you may not need to use ALL of the dressing, refrigerate any leftover dressing for future use). Toss well..
Then add peppers, capers, olives, artichokes and parsley and toss again..
Enjoy! (Note: can be refrigerated for up to 3 days).
Sometimes I use feta cheese instead of Parmesan. While pasta is cooking, prepare the rest of the salad. Drain liquid from the artichoke hearts and green and black olives. Place the vegetables in a large stainless steel, or glass Add the dressing to the salad and mix thoroughly. Taste and adjust salt and pepper.